Post by arietty on Dec 28, 2009 19:11:57 GMT -5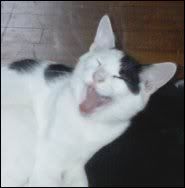 This is so true. It's two sides of the same coin, treating a woman like a hunk of flesh that either pleases you in appearance of doesn't.
It is a well worn meme that all men are like this ("men are visual creatures blah blah..") It IS all about what kind of person the man is and not about what his wife or younger women look like. That is what determines who strays. No it's not the wife's fault because she has put on weight and it's not the young single woman's fault because her dress style shows a lot of skin. It's HIS fault and responsibility.
I have known many QF families and among them there are men who adore their wives and don't have a smidgen of seeing them as "tubs of lard". With the ones who
are
demeaning they are abusive people in the first place and would have been demeaning IMHO regardless of what their wife looked like. I know in my situation after 6 kids I dieted and exercised and ended up looking extremely good in the conventional sense.. and that did not make my abusive husband like me one whit more. He was just as demeaning. You can't fix another person by fixing yourself.
There are some genuinely good men in the QF movement (sometimes it was their wife who was attracted to it and pushed for their family to go that way in the first place). The theology and the system is inherently abusive and it attracts abusers but that doesn't mean every couple ticks all these boxes we are examining here on NLQ.